EPA Gives University Achievement Award for Food Recovery
Posted on October 20, 2014
The University of Arkansas continues to receive accolades and recognition for its pioneering work on food waste prevention and food recovery promotion. The university recently received a 2013 Achievement Award from the United States Environmental Protection Agency in connection with the agency's Food Recovery Challenge. Ron Curry, EPA Region 6 Administrator, presented the award certificate to Carlos Ochoa, director of the Office for Sustainability, at the Arkansas Recycling Coalition Conference.
The EPA praised the university for its tenacity in confronting and conquering barriers to food recovery, its practical effectiveness in implementing food recovery on campus, its leadership in modeling and facilitating food recovery engagement, and its collaborations with area food businesses to promote sustainable food waste management practices in Arkansas.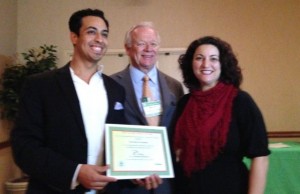 Carlos Ochoa (L) and Nicole Civita (R) receive the 2013 EPA Achievement Award
As Ochoa emphasized in his acceptance remarks, the university's advances in sustainable food management practices have resulted from collaboration among various units and stakeholders on campus: The Office of Sustainability has made food waste reduction and food recovery an institutional priority in line with its goal of becoming carbon neutral by 2040.
The School of Law's Food Recovery Project
has provided the legal information and expertise needed to allay concerns about potential liability and insure that the university's food recovery efforts are safe and effective. The School of Social Work and the Department of Political Science of the J. William Fulbright College of Arts and Science also brought attention to the twin problems of food waste and hunger and the importance of food recovery at its inaugural Food Justice Summit in Nov. 2013.
The university's efforts are bolstered by its students who recover food from its dining halls and retail food establishments and who founded and operate Razorback Food Recovery as one of the Volunteer Action Center's flagship programs. Food recovery would also be impossible without the cooperation of the dining services provider, Chartwells, and its staff, who set aside and donate wholesome unsold food at the end of the day for donation to the campus Full Circle Food Pantry and other emergency food programs in Fayetteville.